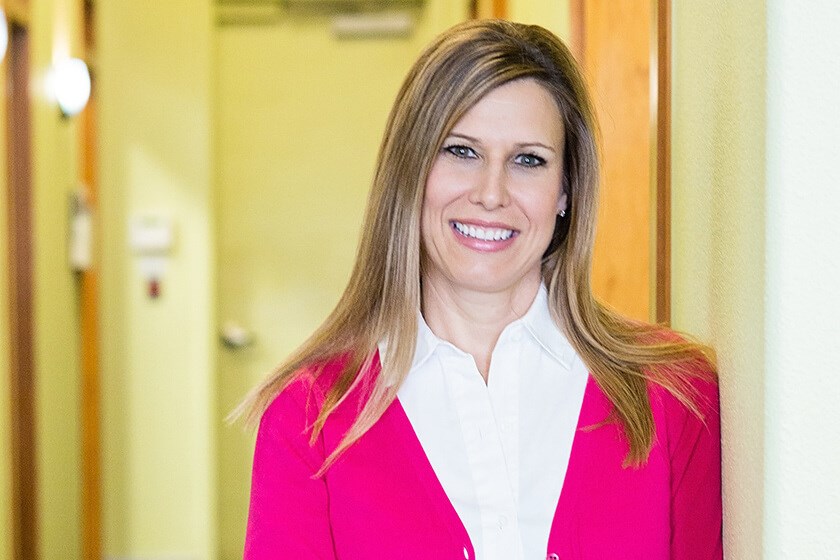 Proudly born and raised in Wichita Falls, TX, Dr. Sarah Fritzsch is a true hometown product. At Stone Lake Dental, she takes great pride in providing effective dental procedures that produce quality results for patients in and around the area. With attention to detail and a dedication to offering exceptional patient care, Dr. Fritzsch creates customized treatment plans that fit the unique needs of each of her patients to ensure they receive their desired outcome.
With experience and training in all areas of dentistry, Dr. Fritzsch provides restorative, cosmetic, preventive, and advanced dental procedures at Stone Lake Dental. Through general dentistry treatments, she provides dental exams, sealants, tooth-colored fillings, tooth extractions, emergency dental care, etc. As a part of cosmetic and restorative dentistry, Dr. Fritzsch performs procedures, such as smile makeovers, laser gum contouring, treatment of periodontal disease, and scaling and root planing, among many others. Advanced treatments offered by Dr. Fritzsch include sedation options and oral appliance therapy.
Dr. Fritzsch graduated from Midwestern State University in 1996. She then went on to receive her Doctor of Dental Surgery degree at The University of Texas-Houston Dental Branch in 2000, earning top honors. After graduation, she returned home to practice dentistry in Wichita Falls. Dr. Fritzsch keeps updated on the newest dental technology by attending multiple education courses throughout each year. She recently returned from Boston after attending a specialized course in restoring dental implants.
Dr. Fritzsch is a proud member of several dental organizations, including:
The American Dental Association
The Texas Dental Association
The 13th District Dental Society
Dr. Fritzsch and her husband, John, a native Wichitan, have been happily married for 20 years. They have 8-year-old twins, Luke and Emma. When she is not at the office, Dr. Fritzsch enjoys all outdoor activities, volunteering at her children's school, and traveling with her family.
Reviews
"Only one word can describe Dr. Fritzsch....Awesome. If I had not moved away I would still be going to her."
M.
Yahoo
"I know there are some great dental offices in Wichita Falls, but these folks (Dr. Sarah and Ms. Lindsey) take good care of me, and I wouldn't trade my visits there for anything. Dentists, hygienists, receptionists--all wonderful."
F.S.
Google
"Very pleased with services. Great with kids - our 6 year old actually enjoyed getting a filling and asked if he could go back to the dentist the next day!"
L.
Yahoo
"Great job doing dental work. Has been my dentist for almost 4 years!"
D.
Yahoo
"My husband and I just had cleanings today --great as always. We have been seeing Dr. Fritzsch for several years. She is just as thorough today as she was when we began. One of our daughters likes her care so much that she comes to Wichita Falls from the Amarillo, TX area. Keep up the good work --ALL of you in the office. Can't say enough good."
R.J.
Facebook